We never expect our garbage disposal to break down so when it does, it leaves us scrambling. Unlike other plumbing issues such as a pipe leak, we can go with this break for a day or so. Most of us run down to our local home improvement store and grab a new garbage disposal, InSinkErator seems to be the favorite brand. Think about this, you'll probably have your garbage disposal for the next twelve years so why not splurge and upgrade for a few extra bucks?
When You Have A Chance Upgrade Your Garbage Disposal
I've always made a point of upgrading when it comes to things that we will use for years, such as water heaters, garbage disposals, and even our toilet. You'll not only see the benefits by saving energy, but you'll also enjoy the upgraded features. First, the base model is the badger InSinkErator; you can purchase for $100 – $170 at your local home improvement store. Now let's look at some of our favorite InSinkErators.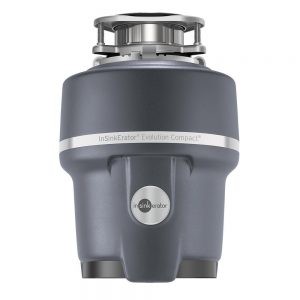 The InSinkErator Evolution Compact
The InSinkErator Evolution Compact 3/4 HP Continuous Feed Garbage Disposal is designed for smaller cabinets but with the same powerful features. You can purchase this disposal for approximately $100, more than the Badger but well worth the investment. It comes complete with stainless steel grind components and with the latest in Multigrind Technology. Additionally, it features SoundSeal technology for quiet performance. It also comes with a 4-year "we come to you" in-home service warranty.
InSinkErator Evolution Select Plus
InSinkErator Evolution Select Plus 3/4 HP Continuous Feed Garbage Disposal. This unit has all the features of the Evolution Compact plus a removable antimicrobial quiet collar sink baffle, in addition to a 6-year service warranty. Most of us do care much about what's under our sink, but for those that want a cabinet that sets itself above the rest, this is the disposal for you.
InSinkErator Evolution Excel
InSinkErator Evolution Excel 1 HP Continuous Feed Garbage Disposal. This disposal costs around $400. It's complete with all the fantastic features of the above disposals and it also includes an auto-reverse grinding system. It has 3-stage grinding technology that could grind almost anything, including bones. Jam-Sensor circuit that automatically increases torque to break through tough jams with a 7-year service warranty.
You Can't Beat The style And Reliability
InSinkErator garbage disposal cannot be beaten when it comes to style and reliability. If you want to impress your guests show them what's under your sink. Your garbage disposal will be part of your kitchen for the next 10 to 15 years, so get the best for a small amount more. You won't regret it.